Self-Assessment Tool for Sustainable Providers (HAPS)
The Self-Assessment Tool for Sustainable Providers (HAPS) is a virtual platform aimed at enabling and assist companies interested in conducting a self-assessment to consolidate their best practices in business management in pursuit of more sustainable market development. This is in order to address the need to strengthen the public procurement system, develop the market, and generate impactful acquisitions that benefit society and contribute to the public good.
The tool has been promoted within the framework of the cooperation project "Towards a Triple Impact Economy through Public Procurement" between the Organization of American States (OAS), as the Technical Secretariat of the INGP, the International Development Research Center (IDRC) of Canada, and the Inter-American Development Bank (IDB).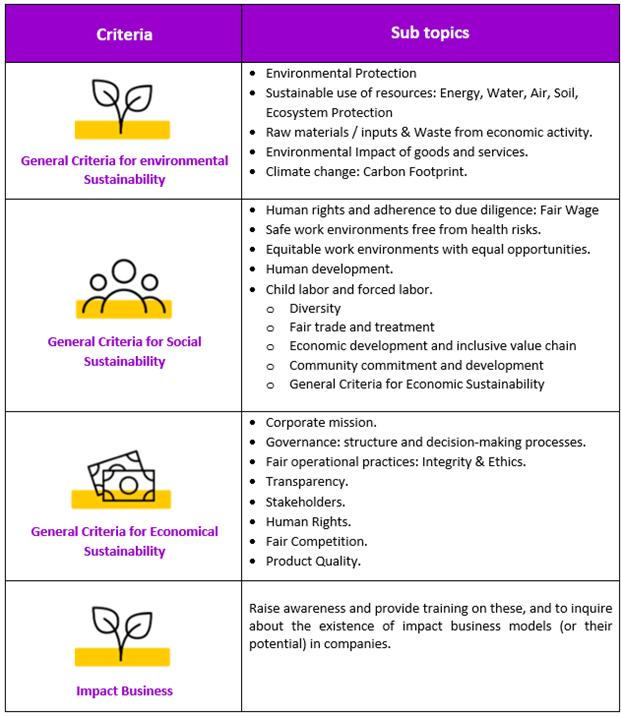 ---
WHO CAN REGISTER?
Public Sector:
– Contracting Entities: Purchasing entities that use the tool for the surveying and identification of sustainable best practices in the market.
– Ministries or agencies that support and advise companies in the development of their capabilities, with the aim of strengthening the market and providing reports to those responsible for creating management policies.
Companies:
– Individual or Legal Entity already registered as suppliers.
– Individual or Legal Entity not registered as suppliers but intending to participate in public contracts.
---
EXPECTED BENEFITS:
Purchasing Agencies:
– Recognize and value the capability of companies to provide sustainable goods and services.
– Highlight the importance of developing a sustainable offer to generate public value.
– Have useful information to develop new capabilities in the market.
– Promote that a larger number of public procurement processes contain economic, social, and environmental qualification criteria.
Companies:
– Be "pre-identified" as sustainable suppliers.
– Demonstrate their good social, environmental, and economic practices, for the knowledge of state bodies in charge of acquisitions.
– Make visible their level of maturity in the development of good environmental, social, and economic practices.
– Identify opportunities for improvement based on the results obtained from the use of the platform, with the aim of consolidating their practices in sustainable business management.