Toward strategic public procurement in LAC
Search
Find in the RICG database information organized by thematics, countries and type.
This publication is a joint effort by the Organization of American States (OAS) and the International Institute for Sustainable Development (IISD), with the institutional and financial support of the International Development Research Centre (IDRC) of Canada, and technical contributions from System B and the national contracting agencies of Chile, Paraguay and the Dominican Republic; as well as the Municipality of Mendoza, Argentina.
The document illustrates four case studies from the region that shows how public procurement reform can be implemented. Each has transformed public procurement to provide a broader governing strategy and to achieve better value for money for citizens. Toward strategic public procurement in LAC-case-studies-
This publication is a supplement to the Handbook for the Inter-American Network on Government Procurement (INGP): Implementing Sustainable Public Procurement in LAC.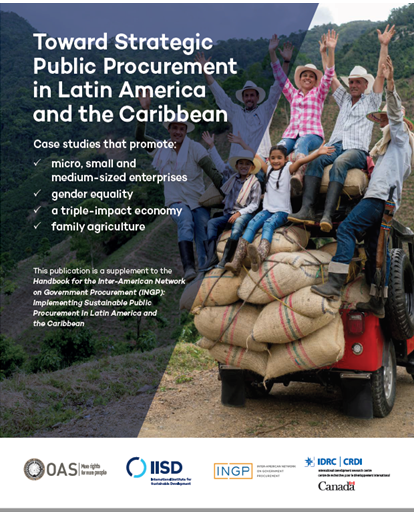 © 2023 - Inter-American Network on Government Procurement