5th Global Procurement Conference
Virtual event | July 6th-8th, 2020 | From 14:30 - 17:30 Hrs. (CES Time)
Search
Find in the RICG database information organized by thematics, countries and type.
University of Rome Tor Vergata, with the School of Economics, is launching the 5th Global Procurement Conference that this year, due to the ongoing COVID emergency, will take place VIRTUALLY on July 6th, 7th and 8th. Its purpose is to raise awareness for the planetary implications of joint decisions regarding what is purchased, how and for whom in the public domain.
Thanks to a partnership with the European Bank for Reconstruction and Development, the University of Rome Tor Vergata has the pleasure of presenting the conference speakers, experts from International Financial Institutions and regulatory bodies, policy-makers, economists, lawyers, public procurers that will engage in a much-needed debate concerning issues related to innovation, competitiveness, sustainability and regulation in procurement worldwide.
For more details, please click Here.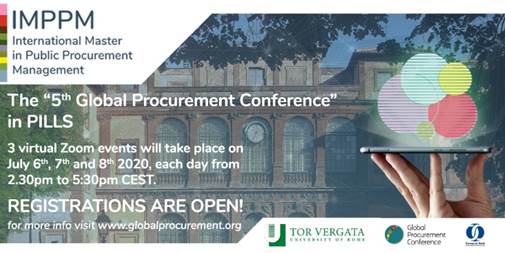 © 2023 - Inter-American Network on Government Procurement