Lanching of the observatory on ChileCompra
Search
Find in the RICG database information organized by thematics, countries and type.
What is the ChileCompra observatory?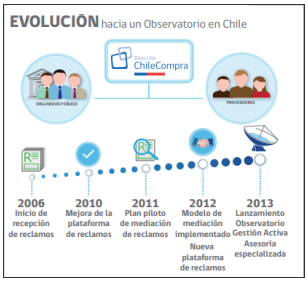 The ChileCompra Obsevatory promotes through the platform of ChileCompra www.mercadopublico.cl a standard on quality and good practices on the processes realized by the 850 public agencies, with the goal of augmenting the levels of transparency, integrity, and efficiency on public procurement. By including a system of alerts, monitoring, active management and specialized consulting on government procurement, the observatory becomes a tool for the detection of gaps and points for its improvement on the process of public procurement as a platform for appeals and a mediation service.
The observatory intervenes in a proactive and preventive form, as a catalyst in the construction of its bases partly due to its public officials, in associated tendering processes, and in the performance of state suppliers. Such that observatory can foment greater clarity on procurement and augment business opportunities in the biggest electronic market in the country.
The Public Market in Chile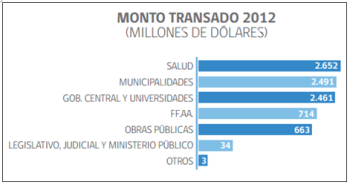 Throughout its 10 years, trasctions done by ChileCompra are estimated to be over 1.000 million dollars in 2003 to more 9.100 million dollars in 2013.
112.000 suppliers participate on the Business opportunities made by the market of public goods.
90% of business actors are made up of micro and small enterprises.
Micro and small Businesses obtain 42% of the monetary transactions on ChileCompra, five times more than the national average.
© 2023 - Inter-American Network on Government Procurement